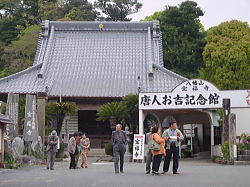 <Hofukuji Temple>

Here lies the grave of Okichi. The Okichi Memorial Hall displays many sourdes such as mementos, photographs and portraits of Okichi and Harris as well as those which reflect the lifestayles and customs found in Shimoda in those days.

<Okichi, the Tragic Heroine>
A geisha in Shimoda, Okichi was orderd by the Shogunate to keep house for Townsend Harris, America's first consul to Japan. For the sake of her country, She was forced to part from her beloved and spent her days serving Hariis.
Okichi is then compelled to lead a life in wandering vicissitudes after Hariis returns home in America. History always has its bright side and dark side.
We find the bright side of Shimoda in its glorious history as the turning point in the modernization of Japan. But behind that scene we find the dark side, that is the tragic drama of a woman whose life was shattered and ruined for the sake of history.