Main page / Information and Facilities / Charges /Access / Reservation / Room availability / What is Pension?








Come and Visit Guest House "Pension Sakuraya" Kids Friendly Accommodation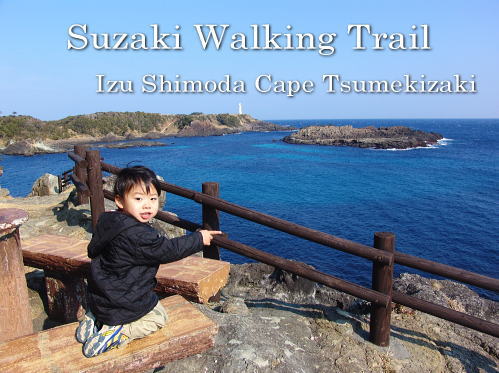 February 22nd 2008 Sunny day in Shimoda

I went to Suzaki Walking Trail which I have never been since I moved to Shimoda 15 years ago.
Of course I went to Suzaki with my son, Yuuki.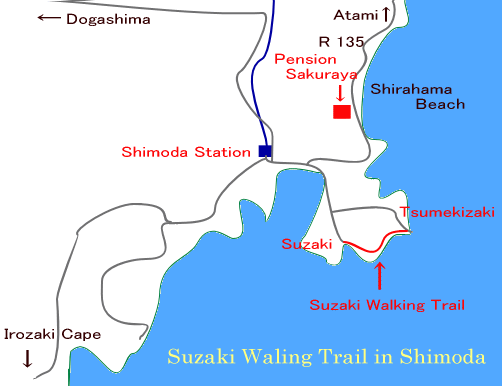 Suzaki Walking Trail is located on the tip of Cape Suzaki in Shimoda.
It takes about 10 minutes by car from Pension Sakuraya.
If you come to Shimoda by train it is possible to get there by bus from Shimoda train station.(No. 10 bus terminal )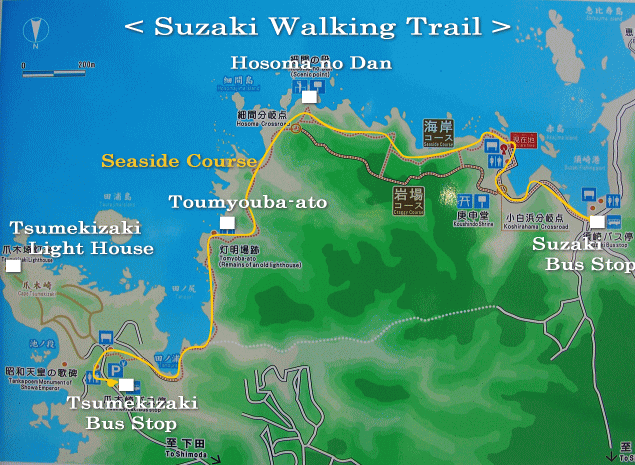 Suzaki Walking Trail is 2,8km hiking course. I think it is not so long, but I went there by car this time, so I parked my car near Suzaki bus stop and started to walk.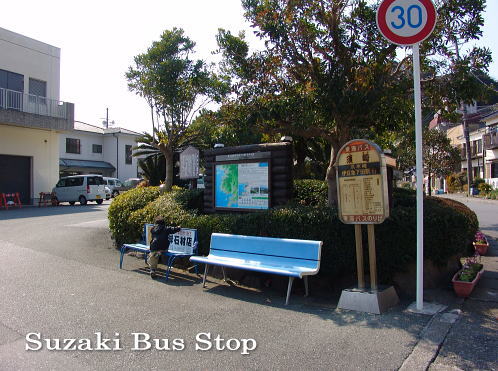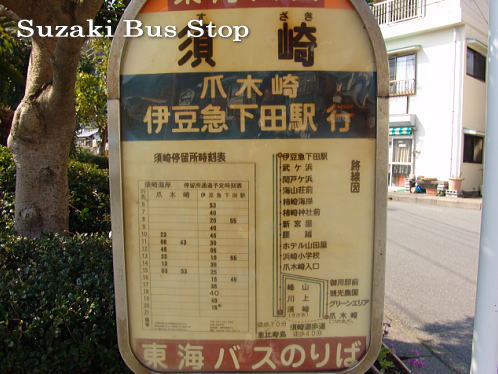 During Narcissus festival in December and January they have many buses a day between Shimoda station and here, but only one bus an hour runs except busy season.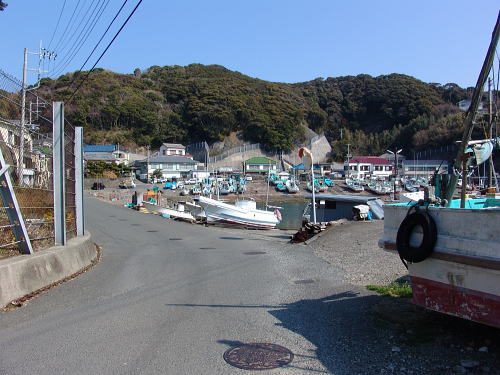 We walk along the harbor. I didn't know that there were a lot of ships here.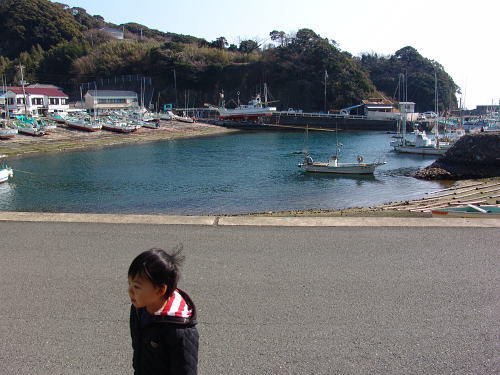 We are going to the oposit side of this harbor.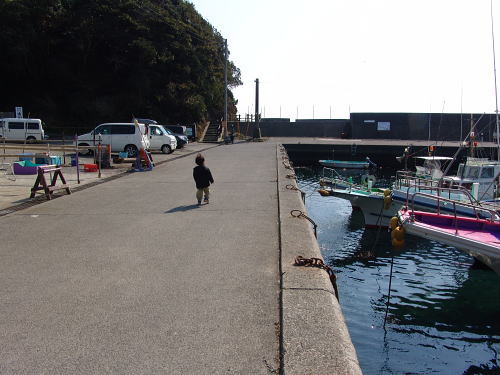 There is a step of the entrance of Walking Trail over there.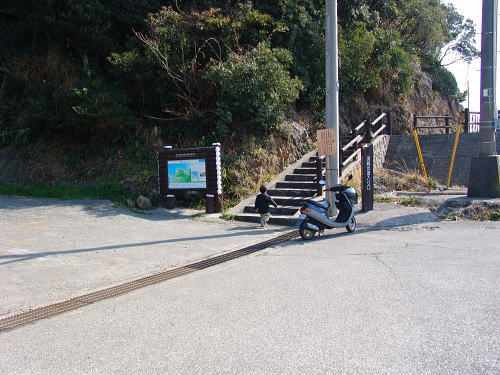 This is a start point of "Seaside course".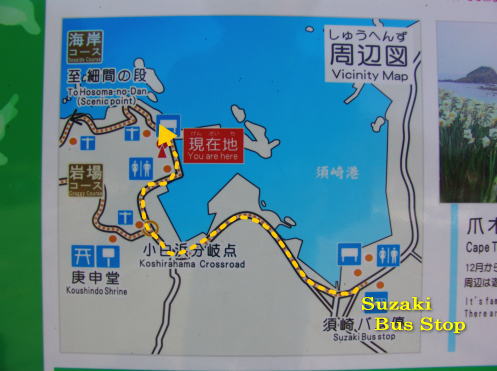 We got here from bus stop walking on the yellow line in this map.
Actually there is another course "Craggy course", but I selected Seaside course because I wanted to see and fill the ocean.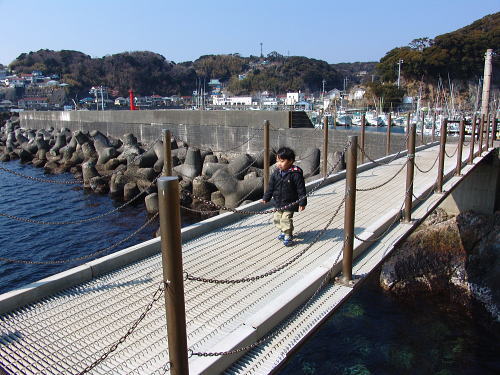 After going up the steps there was a small bridge.
Now we are in fron of the ocean here.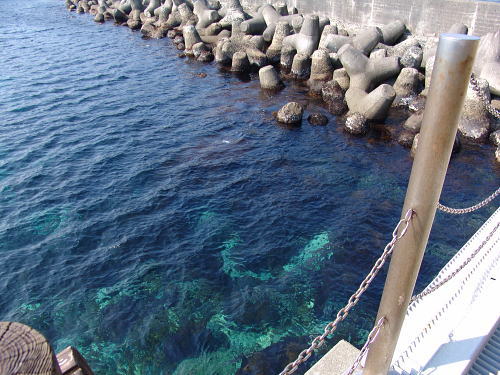 We could see the bottom clearly because of clean water of Shimoda.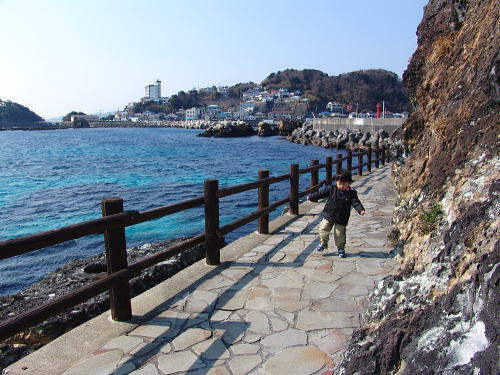 OK, we started to walk on the trail.
My son, Yuuki is very fine because he slept very well last night.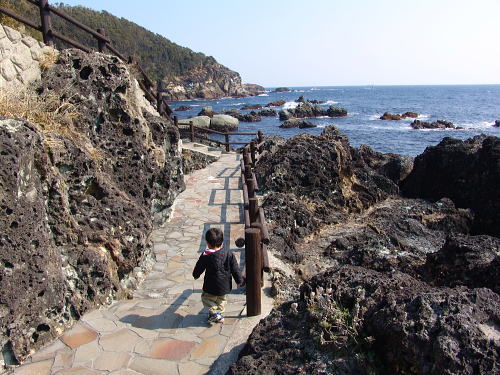 We found the steps soon.
First of all we are going to the tip of that clif over there.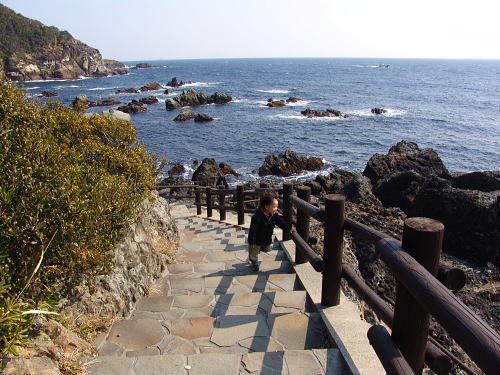 Today it was beautiful and very warm, but we had a strong wind.
From here we are going up the hill.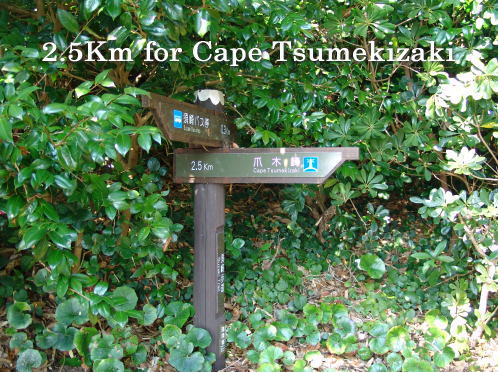 There are signs like this at many points on the way to Cape Tsumekizaki.
This sign says 2,5km to get to Tsumekizaki, but I think we walked longer..... (-."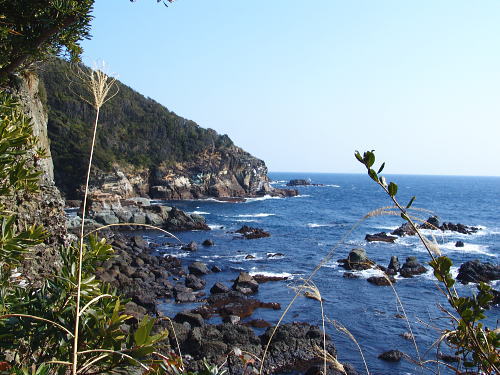 We must be going to that clif, but is there a road to get there?
Where can we walk on that clif?

But actually......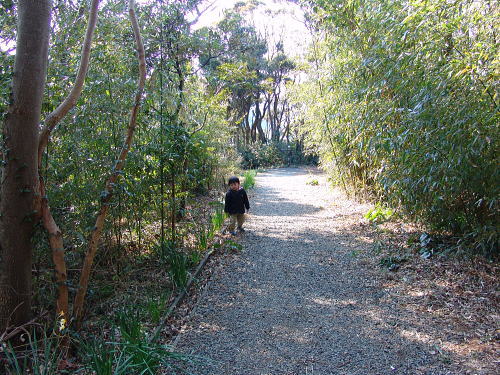 We are walking on Seaside course but we sometimes walk in the trees like this.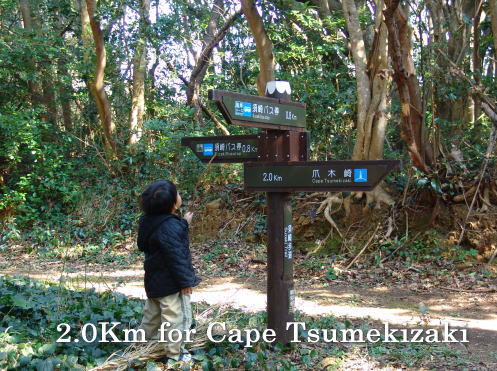 There is another road to get back to Suzaki bus stop.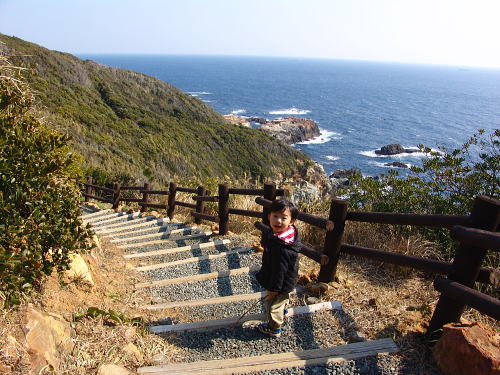 Out of the trees we can get the beautiful scenery like this.
But we could not see the Izu seven islands today.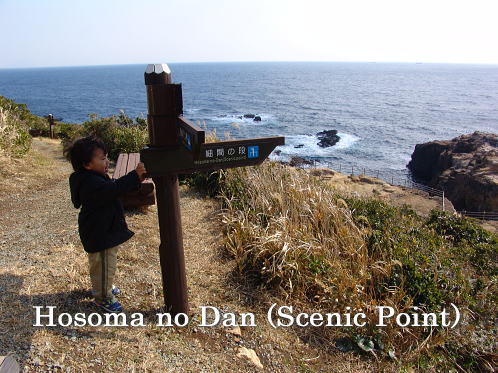 We got to the scenic point "Hosoma no Dan" which is the middle point between Suzaki and Cape Tsumekizaki.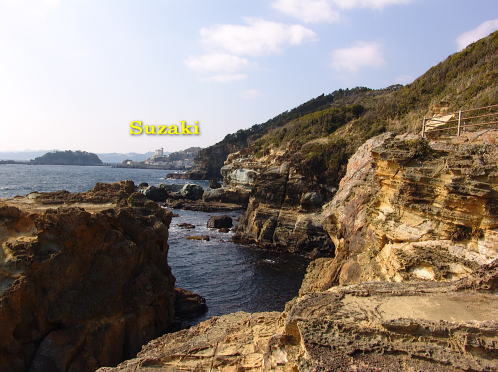 On the right side we can see Suzaki village over there.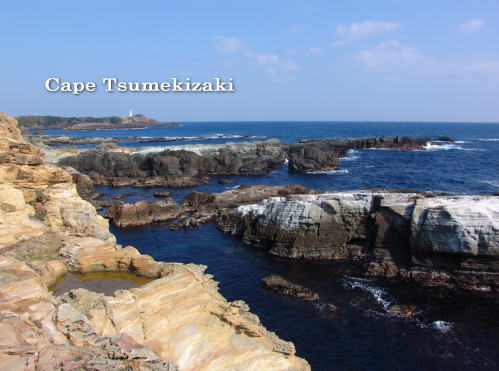 On the left side that is Cape Tsumekizaki which is a finish point.

The small islands around here are old quarry sites.
It started from when Mr. Ota Dokan output the rocks for the stone walls of Edo castle in 1547.
There was an old records in Odawara of stone carrying parties passing by.
The site is of figurative beauty now because it has been exposed to the wind and waves for a long time.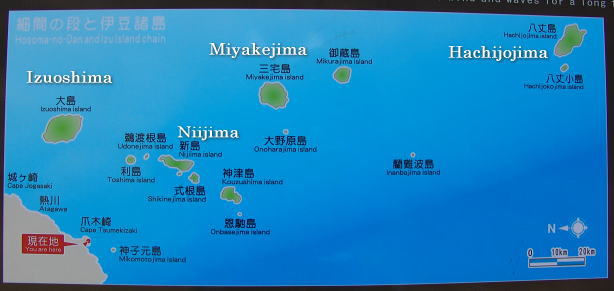 There was a sign board and says,
we can see a nice view of Toshima, Niijima, Miyakejima and Izu island chain on the horizon from this point if the air is clear.
And also we can see many boats going across the sea.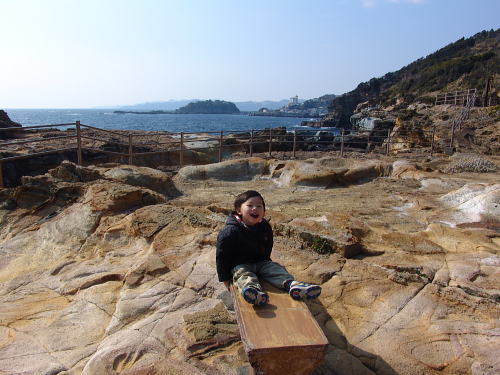 I had a short break here eating snacks with Yuuki.

He seemed very happy and was excited today.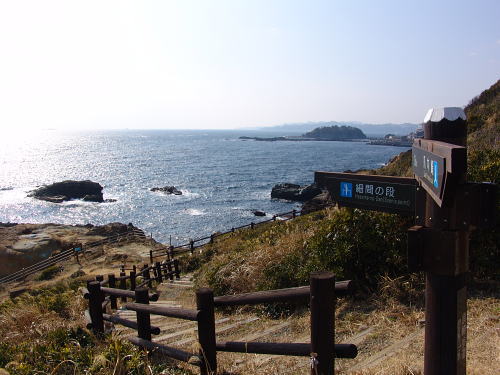 After short break we started to walk again.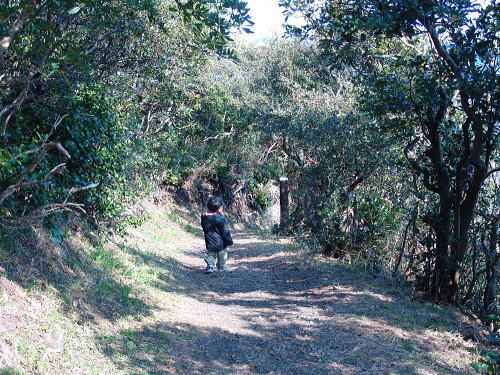 Now we are walking in the trees again.
Actually he was walking singing a song!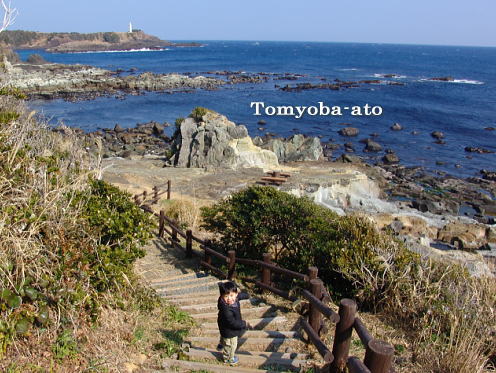 We have got to "Tomyoba-ato".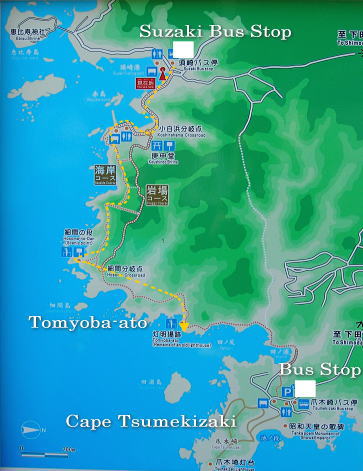 Tomyoba-ato is the remain of an old lighthouse. But now there is only the foundation remains.
The magistrate of Shimoda, Mr. Toda Saburouemon built a guard house in 1595. He installed a light in the guard house for maritime safety.
As Izu peninsula is located between Sagami bay and Suruga bay many ships go and come from Tokyo and Osaka.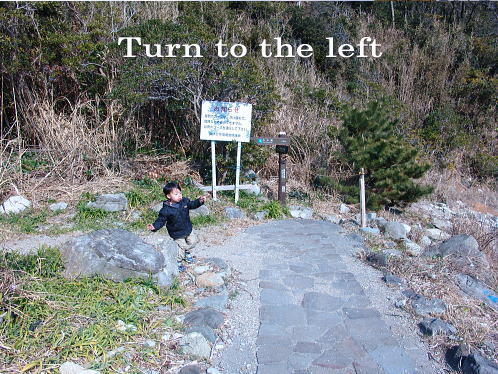 At this point there was an old trail of seaside on the right, but now this trails is closed to go because of landslip.

Please turn to the left here.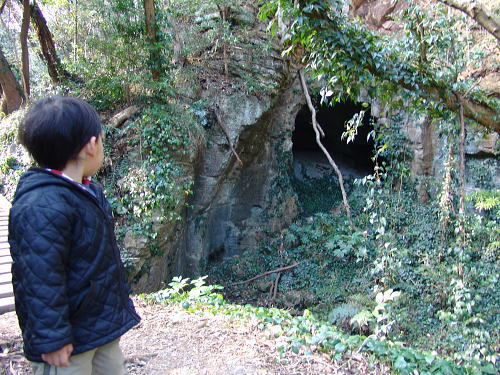 On the way to Tsumekizaki we found a big cave on the left.
But I don't know what it is for.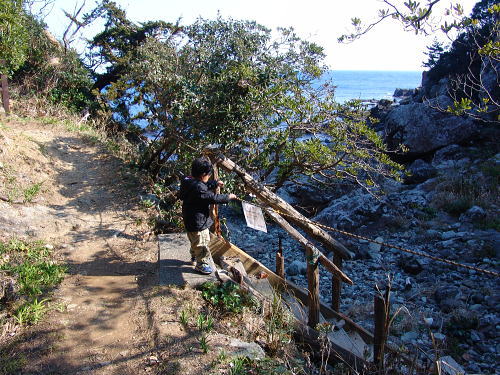 We found the old step which was broken after a long time.
I think this was a finish point of Seaside course on the rocks.
We could see the landslip from here.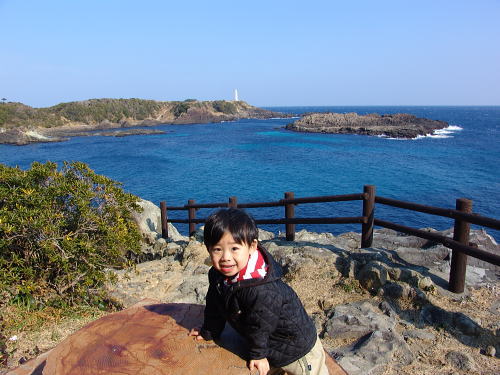 Tsumekizaki cape is closeby from here.
The sea around this point is very beautiful.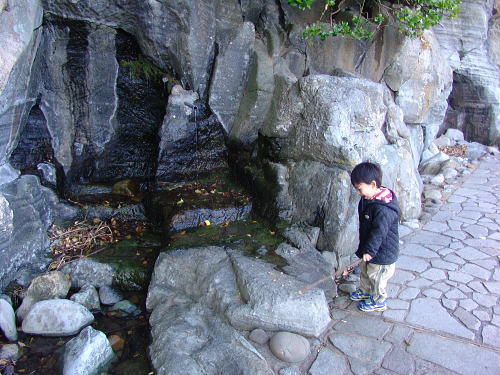 We found the natural water coming out from the rock.
It is possible to drink it, I guess.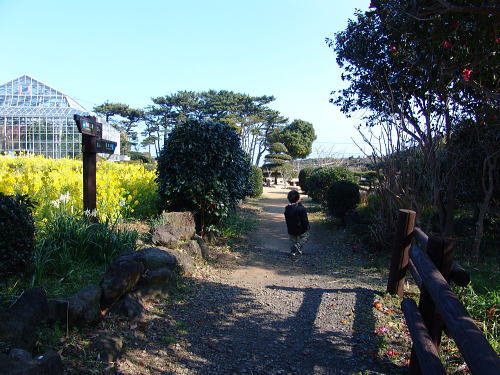 This is the end of walking trail. The yellow rape flowers were shining under the sun in the garden.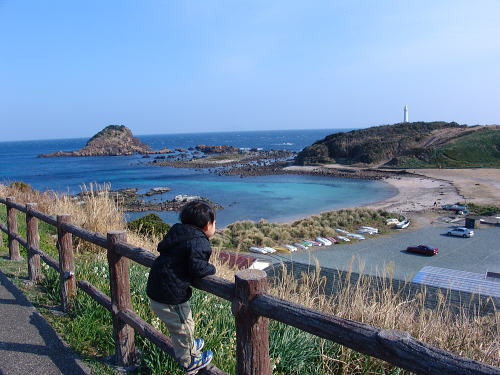 We arrived at the finish point at last. We started to walk at 12:15 pm from Suzaki and arrived here at 2: 25 pm.
It took about 2 hours because we sometimes had a break and walked taking photos.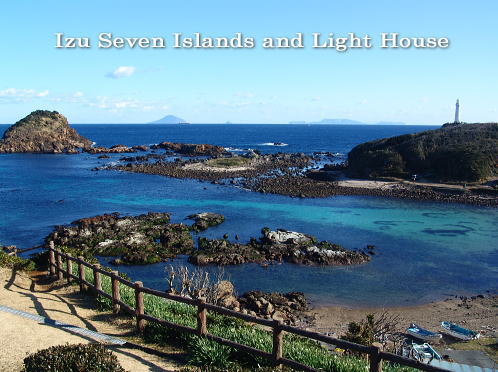 From this point we can see the gorgeous scenery with blue water, lighthouse and Izu seven islands like this.
I took this photo last year.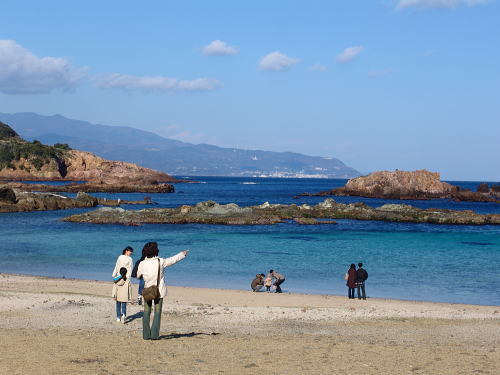 This is a small creek near the lighthouse.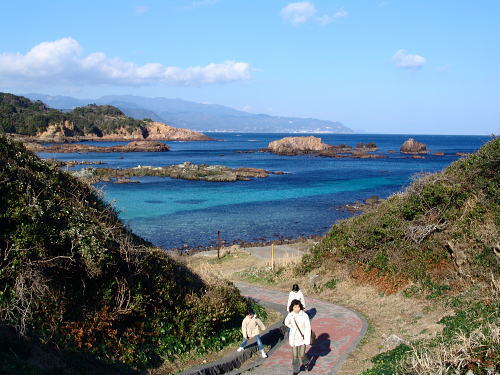 We can see Amagi mountains on the way to lighthouse and can walk around the cape Tsumekizaki and lighthouse.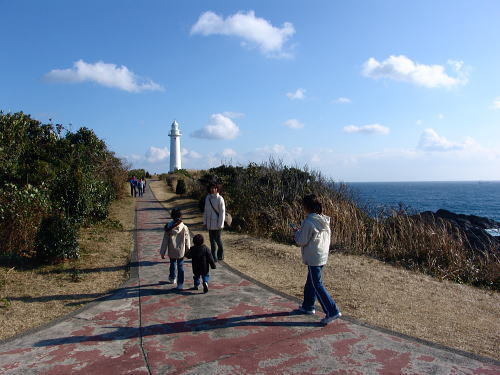 The beautiful white lighthouse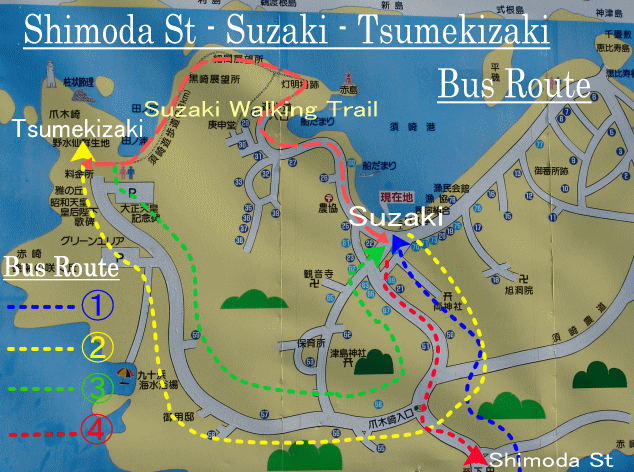 This is a map of Bus Route.
Between 10:00 am and 4:00 pm all buses go to Tsumekizaki from Shimoda station through Suzaki like this map.
But before and after all buses run only between Suzaki and Shimoda station.

*From Shimoda station the first bus depart from No. 10 at 10:10 am to go to Tsumekizaki. It takes about 25 mintues to get to Tsumekizaki.
*From Tsumekizaki the last bus depart at 4:05 pm to Shimoda station.


Printable Map for Suzaki Walking Trail


---







Presented by Pension Sakuraya in Shirahama Beach


Main page / Information and Facilities / Charges /Access / Reservation / Room availability / What is Pension?

Pension Sakuraya Japanese site
Copyright (C) Pension Sakuraya All Rights Reserved