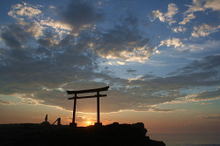 At around 4:30am on July 13th, I could see a really beautiful sunrise at Shirahama beach.
Before coming to Shimoda I wanted to see this scine which I saw in Sakuraya's webpage.
We stayed in Shirahama for 4 days and could see it on a last morning at last because it had been cloudy for 3 days.
This place is behind Shirahama shrine, and there is a red gate "Torii" on the big rock.
We can see Izu seven islands from here, and this gate seemes like a place to meet gods from these islands.
When I took this picture the sun had just been rising.
– – – – – – – – –
Actually I did not take this picture.
Our guest came from Tokyo went to the beach in early morning to take this picture, and sent us this picture to us later……. .