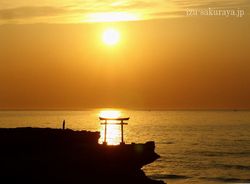 This morning I waked up at 4:30 AM because it was too hot in my room.
I tride to sleep again, but I couldn't continue sleeping any more.
When I saw outside the sun was just rising on the horizon, so I went to the Torii Gate of Shirahama shrine on the beach to take photos of sunrise.
Here are some other photos which I took this morning.