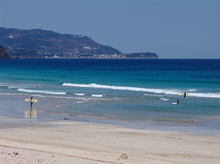 Today it was really warm and a beautiful day in Shirahama !
The air was very clear and we could see Amagi mountains and Izu Oshima island.
Besides the color of sea was just emerald green.
When I was taking pictures in the beach, some poeple came there and said…..