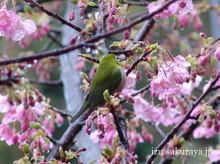 Today it was rainy as yesterday.
When it rainy it frustrated me because I can't go anywhere to take pictures.
Anyway I went out to check out the outside condition and I found two green birds came to the cherry tree next to our building.
Do you know why they came? …….