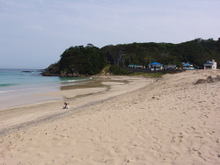 Before I went to Shimoda downtown I took some pictures on Shirahama beach.
We had an heavy rain yesterday moring but it was very hot today.
I was thinking that there were some people in the water before getting to the beach but there was nobody
who was swimming today actually.
A silent beach "Shirahama Ohama Beach"
Pension Sakuraya – A family running guest house in Shimoda, Izu peninsula