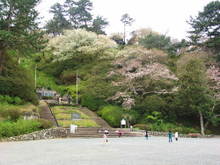 When I went to Shimoda I went to Shimoda park to check the blooming of cherry trees.
This year it has been cold in these days, so Sakura trees started to bloom slowly.
But I was able to see some trees have already bloomed in this park.
There are a lot of cherry trees on the river side in Shimoda downtown, but I don't know if I can go there soon because we will be busy this week.