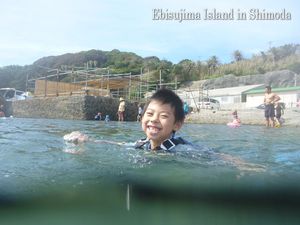 Today we had no dinner for our customers, so I decided to go to the sea with my son.
But in Shirahama beach they announced Swimming carefully due to the big waves by typhoon passing near Japan, so we went to Ebisujima island in Shimoda.
There were a lot of people around this island and they were swiimming, jumping into the sea, snorkeling.
Click here to see the today's album.
It takes about 15 minutes by car from Pension Sakuraya in Shimoda, Japan