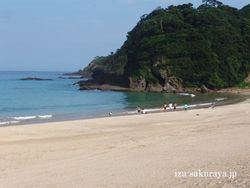 In these days it had been almost cloudy and rainy here in Shimoda, but it was changed today.
Sunny day came again and it was very humid.
When I went to the nearest beach "Shirahama", there were some people who were swimming in the water.
They were very lucky today because of sunny in the rainy season.
I really wanted to swim with them today.