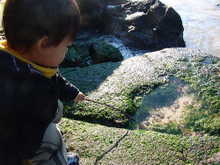 This is a picture which I took when my son and I went to the beach yesterday.
This place where we found was on the left side of the beach.
There are some rocks and some of them have a small hollow on it.
And we can find sea anemones in this hollow. …..