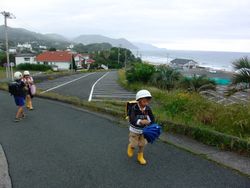 Last week the #2 typhoon was coming to Japan from philippines area, but it was become to the extratropical cyclone before coming to Shimoda yesterday.
We had a lot of rain here in Shimoda last weekend, but it was not huge damage.
My daughters expected that the schools would be closed due to typhoon, but they had to go to school at last because there was no heavy rain and strong wind this morning.
As usual I went to the shop on the way from the elementary school to pick my son up, and we came back home together.
By the way I show you the photo which I took in our kitchen tonight.
But if you don't like the reptiles you should not see any more….