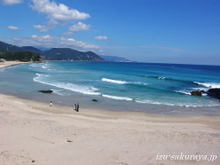 Today it was very warm and beautiful day in Shimoda!!
That's why our guests went to the beach to swim.
Look at this!!
Before goint to Shimoda town for shopping I took this picture.
I could see a gorgeous beach like this after long time.
I am showing one more picture for you….