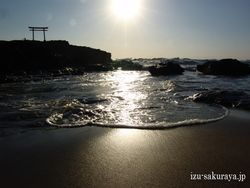 This morning I went to the beach for a walk after long time.
It was sunny here in Shimoda but we had a very strong wind in Shirahama.
I was going to walk heading to Shimoda downtown, but I changed my mind due to the strong wind.
I took this picture behind Shirahama shrine.
Here are some pictures I took this morning.