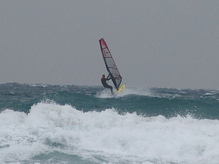 Todya it was very cold, right ?
When I had a time in the afternoon I went to the beach to take a picture.
But the wind is really strong and cold. The wind made my hands holded my camera too cold.
In this situation it was good chance for windsurfers to get good wind and wave.
On the left side of the beach, from the area behind Shirahama shrine, he started windsurfing.
Then the big wave came toward them…..