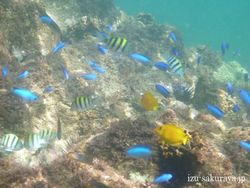 I have been thinking that I wanted to go to Nishi-Izu town for snorkeling for a long time.
2 years ago, when I went to Nishi-Izu town for buissines I went to Futo Beach and found out that the water was very clear, and decided to come here again in the future.
On 29th September I could go to Futo beach but the condition was not good, so I change the point to Sehama Beach next to Futo beach.
There is a island called "Son no shima", and I could find out a lot of fishes around this island.
Click here to see the pictures I took there.
Pension Sakuraya in Shirahama, Shimoda