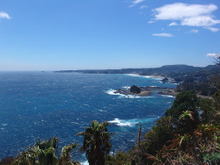 Last Sunday we went to Mishima for shopping all together.
I think the last time which I went to Mishima with my family was 2 years ago.
This is a picture over looking Shirahama, which I took at Ogasaki Wing, the entrance of Shimoda city.
It was sunny and gorgeous day, but we had strong wind. So we could see the white waves over there.
We started to go again to get to Mishima city……