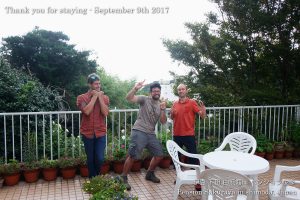 They came to Japan from France for the 1st time and stayed at Pension Sakuraya for 4 nights.
During their stay they went to the nearest beach "Shirahama Ohama Beach" every day and played surfing.
On the 4th day, as I didn't have any other customers I went to Ebisujima-island in Shimoda for snorkeling with them.
I posted the pictures of them that I took at Ebisujima-island on Facebook album.
I also had very good time with them for 5 days.
Thank you very much for staying with us.
P.S
When I took these pictures one of them had already checked out early in the morning, so actually they are 4 people.