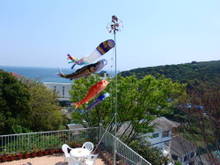 As it had been cloudy and sometimes rainny in these days we couldn't do it.
But actually we could set up "Koinobori" at last yeseterday.
We, Japanese decorate Koinobori to pray that sons or grand sons grow up healty and strong.
According to the story of china, when the carp finishes climbing up the waterfall it become a dragon at the dragongate.
So Japanese parents hung Koinobori up in the sky for children rise up like a dragon in the future.
Anyway I am showing a picture of today's beach…..