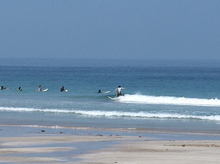 I was going to post this phot last night, but I couldn't do it. Because the internet server didn't work well.
So I would like to try to post it today again below,
—————————-
It was almost sunny today after a long time.
The temperature was higher and higher, so it was just summer !
In the beach there were some surfer, but they didn't have a good wave.
This weekend All Japan Students surfing championship will take place here in Shirahama.
But how will be the condition ? …..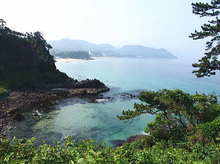 I took this picture at the southern area of Shirahama.
We, actually can see the beautiful Amagi mountains and Izu seven islands from this place if the air is clear.
By the way in Okinawa they had a heavy rain in these days.
It will be rainny in Shimoda this weekend too.