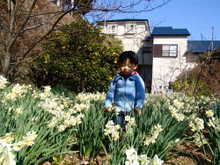 We had a strong western wind yeseterday, so I was thinking that it would be cold today.
In Japan they had snow in many cities today, but it was very warm here in Shirahama.
Today we had guests, so I went to our garden to pick up the flowers for the decolations with my son.
In our garden the narcissus flowers had already finished in the same stage of last February, but they are full blooming this year. …..
The plum tree has already had a lot of flowers behind the yellow narcissus.
We make plum wine with these plums in every May.
It has very good tast and smell.
.
.
.
We have some Sakura trees in our garden too.
And one of them are blooming and have a lot of buds.
The color of this Sakura is more pink than "Someiyoshino", the popular and famous Sakura in Japan, and bloom early every year.
In our garden the spring has come !!