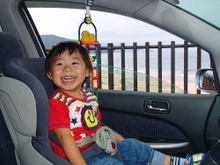 When I go to Shimoda I sometimes take pictures of the beach before shopping.
And my son has to wait for me until I finish to take pictures, but he is good guy because he doesn't cry.
I guess he understands his situation since he always has to wait while I take pictures.
Anyway I am showing the picture which I took today….