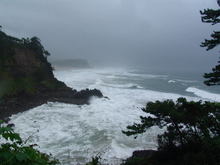 Long time no posting this weblog, but how have you been?
By the way do you know typhoon is coming to Japan this time?
Look at this picture which I took this morning!!
We usually get a gorgious and blue sea at this point, but as the typhoon is coming directly to Izu peninsula we had strong and dark wave today…..