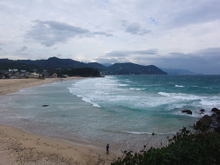 Today it was a little sunny early this morning but after that the weather was change, it was almost cloudy all day.
The color of the ocean is really different depending on the weather.
Today's Shirahama beach had gray ocean like this picture.
And we had very strong wind from the north…..