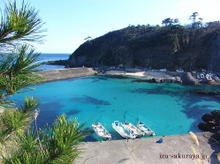 I had some things to buy I went to Shimoda today.
Before that I went to the small fisherman's port in Shirahama.
Look at this photo.
What a beautiful color this is!
The ships were floating on the blue clear water. It's really amazing.
I show you one more photo which I took today …..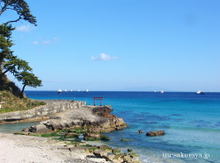 How do you like this photo?
I took this one behind Shirahama shrine.
Do you find the red gate "Torii" on the rock?
In winter the water is very clear and blue like this.
I think this is a best season for good photos.
Why don't you come to Shimoda to get the blue water?