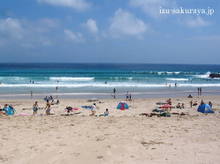 The typhoon #11 has already gone to the north part of Japan.
It didn't land on Izu peninsula this time, so there was no problem here in Shimoda.
I went to the beach to take photos after picking my son after kindergarten.
I think the typhoon left the big waves today, but the water was very beautiful. …..