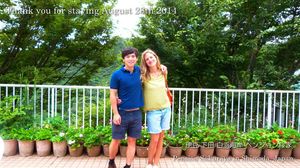 We got these pictures from our customers by e-mail.
They came from France and stayed at Pension Sakuraya for 2 nights from August 26th.
During their stay they went to the nearest beach and Suzaki Walking Trail.
He is learning Japanese, so we had very good time with them in Japanese, French and English.
They went to Kyoto and Wakayama after check out.
Thank you very much for staying with us.
Bon voyage au Japon!!