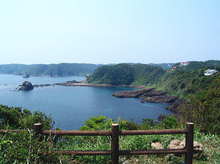 There is a small cape between Shimoda and Shirahama.
We can walk to the top of this cape through a small path from Route 135, it takes about 3 minutes by walking.
From here we can see Amagi mountains, Shirahama beach, Suzaki peninsula, Izu seven islands and beautiful view.
When I went to this cape to clean up today, I took this picture of Suzaki peninsula……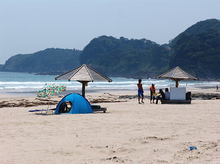 In Shirahama beach I found a parasol and some people swimming with swim suit under the sunshine.
The newspaper said, we had only 50 % of sunny days last month.
Actually we usually have to have hot days more in May, right ?