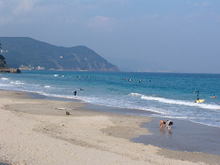 We had a holiday in Okinawa last week.
And when we came back to Shirahama it had already been dark.
Besides we had been very busy to prepare for this weekend in these days.
So I could go to the beach to take a picture after a long time today.
In Okinawa we went to Ishigakijima island and Haterumajima island.
They have excellent beach and nature, but actually this Shirahama beach is very beautiful same as Okinawa, I think.