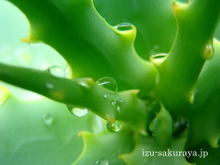 How do you like this photo ?
I took this out of entrance of our Pension.
We had sometimes rain today, so that the leaves of aloe had the water drops.
When I saw this tree from a distance I couldn't know that this tree had these water drops, but I was surprised very much and pleased with it.
This color, "Green" gives us a fresh feeling and makes us happy, right ? ……