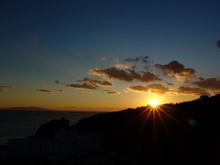 There was a little clouds in the sky this morning, but we could see a beautiful sunrise and Izu Oshima island on the left side.
We have only 10 days this year, we can see the TV programs which tell something about Chiristmas and New year holidays everyday.
I hope we will be able to see a beautiful sunrise like today on Jan 1st !!