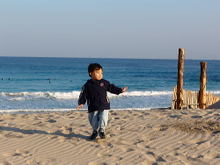 Before going to Shimoda for shopping my son and I went to the beach to take a picture.
It was very warm in Shirahama today, so there were many people to take a walk.
Some of them were in the water without shoes.
We usually don't see such scenary in this season because it is almost end of the year. ….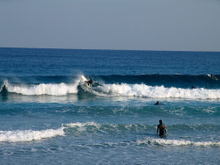 I heard that Shirahama beach had a best condition of waves for surfing in Shimoda today.
That's why there were a lot of surfers on the beach.
Today our guest of Sakuraya said,
"The water was warmer than Chiba's beach today."
The blue, beautiful and warm sea makes the surfers to come to Izu Shimoda.