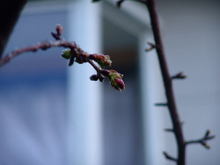 We had holidays for 5 days from January 18th and came back on 22nd, so I couldn't update my weblog.
Anyway, I took this picture before getting to depart on Jan 18th.
I was thinking that the Sakura tree had buds in this season.
And found it !
Can you see some small buds in this picture ?
I am going to show the picutre that I took today. …