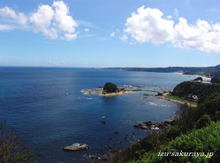 Today it was really beautiful day in Shimoda.
So I finished my job early at noon I went to take picutres by car.
I took this picture at "Ogasaki Wing" where you find at first at the entrance of Shimoda city if you come to Shimoda by car on Route 135.
We can see Izu seven island, Suzaki peninsula and Shirahama beach from this spot…..