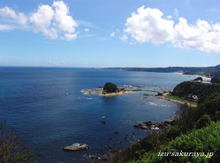 Today it was really beautiful day in Shimoda.
So I finished my job early at noon I went to take picutres by car.
I took this picture at "Ogasaki Wing" where you find at first at the entrance of Shimoda city if you come to Shimoda by car on Route 135.
We can see Izu seven island, Suzaki peninsula and Shirahama beach from this spot…..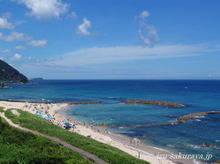 This is "Shirahama Chuou Beach" on the other side of Shirahama Ohama Beach.
We can get there by walking behind Shirahama shrine and it takes about 20 minutes by walk from Pension Sakuraya.
On this beach there are not so many people, so you will be able to make yourself relaxed.
And this is a good point for snorkelling
Why don't you find big fishes in the blue sea?
Pension Sakuraya, A hostel in Shirahama, Shimoda, Japan