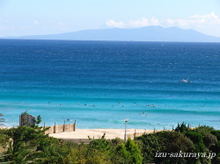 Last week it had been almost cloudy, so we could not see a beautiful ocean and sky.
But it became sunny today in Shimoda.
When I went to Shimoda for shopping I could see gorgeous scenary and took this picture on the way to the Route 135.
Blue ocean, blue sky, white sand and island, this is a very good picture for the post card which I make….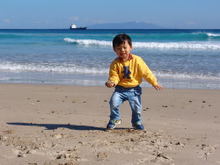 When I came back from Shimoda town I went to the beach with my son, Yuuki.
He could not be here for a long time because of the bad weather.
But he was very happy today and was playing with sand.
The weather forcast says it will be sunny this week.
So our guests will get the beautiful sky and the ocean.