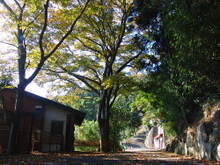 Today it was very beautiful day in Shirahama.
I was taking a walk on the autum leaves around Pension Sakuraya this afternoon, and I found this tree which had been changed with sunshine.
The tree in front of small house is growing up to the sky with a lot of leaves and I could see a small path after this tree.
It is just only 100 meters from Sakuraya.
Would you like to find this gorgeous tree?