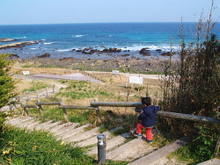 Today my son Yuuki and I went to "Shirahama Chuou Beach" by car.
When we were going down the hill to Route 135 we found the blue sea after about 1 week.
In these days we had not be able to see the sea and the mountain clearly.
After parking our car at the parking lot near the beach we got into the beach soon.
When we got to the seaside the tide was at its lowest and there were rocks along the beach side…..