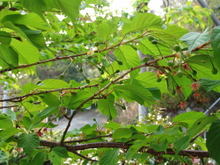 I heard that there are some cherry trees "Kawazu Sakura" which have cherry blossoms in Kawazu town now.
As the blooming was very late this winter they are still blooming.
This is a same kind of cherry tree which is in front of the entrance of Pension Sakuraya.
After blooming this tree already has a lof of cherry now. ….