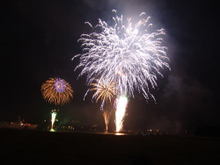 The Black Ship Festival started to take place in Shimoda today.
This is a fireworks which is a main event for the 1st day.
My family and I were going to see this fireworks with our customers.
They arrived at Sakuraya at around 7:30 pm and departed from Sakuraya at 7:45 pm.
But when we arrived at the parking lot near the Shimoda harbor it had been occupied.
So we moved to the other parking lot, but we could see the beautiful fireworks there.
<Link> Black Ship Festival in Shimoda