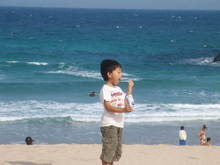 My son, Yuuki and I went to the beach to check the beach condition after kindergarten.
I bought a juice for my son at Family Mart, and got into the beach.
He drunk it up immediately. He was very thirsty, I guess.
I show you today's beach….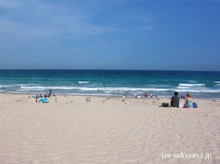 In these days we had a strong north wind, so it was a little cold, and not good condition for swimming.
But there were a lot of people on the beach today, and they were playing volleyball, watching the ocean, swimming, sleeping and walking.
It was very comfortable, and made them happy today.