It takes about 3 hours and half to get this treasure from Tokyo.
Last night we had heavy rain here in Shimoda, but this morning it was changed to sunny day.
Besides the air was clear, so everything was beautiful in Shirahama.
4 minutes walking took me to this beach.
There were some people on the beach, and some of them were sitting on the sand, but some of the other people were swimming.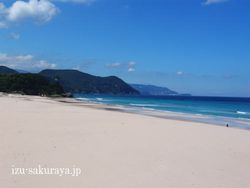 In these days the water temperature have been getting warmer, so we can swim of course.
I took this photo of northern part of Shirahama beach.
There is Shirahama shrine and we can walk behind them to get to the other side.
There is an another beach called "Shirahama Chuo Beach".
Anyway, what a beautiful sky and sea!
I wanted swim today!!!