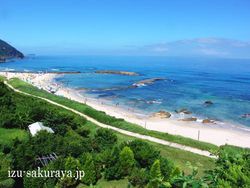 I was very surprised when I went out to say good bye this morning.
Today it was really different from yesterday.
The sun was shining, the sky was clear and very very hot.
"Oh, great! I have to go to the beach to take photos today."
After I finished cleaning up the guest rooms I went to the beach.
This is Shirahama Chuo Beach in Shimoda.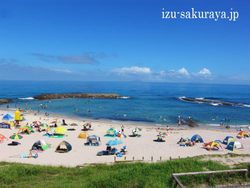 This beach is located next to Shirahama Ohama beach.
It takes about 20 minutes by walking on the rocks behind Shirahama shrine.
This beach has a small cove like this photo, and they don't have big waves in this cove.
So this beach is good for small children.
There is a bus stop near this beach, which is Kone bus stop.
It takes about 15 minutes from Izukyu-Shimoda station.
Pension Sakuraya, an accommodation guest house in Shirahama, Shimoda