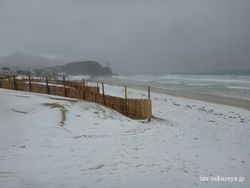 This morning we had a lot of hail from around 8:00 AM, and the beach became white by hailing.
It rarely snows or hails in thie region, but all the places in Shirahama were covered by small hails.
Unbelievable!!
My children may be excited with this at school.
Click here to see the pictures which I took this morning.