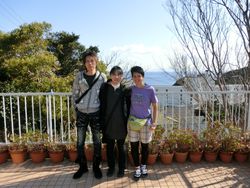 They are the Japanese couple and their friend who is from Thai.
They did horse riding on the 1st day and were going to try sea kayak in Shimoda on the 2nd day.
It became sunny and very warm on the 2nd day, so they could have a great experience in Shimoda, I think.
We look forward to meeting you again.
Thank you very much for staying with us.