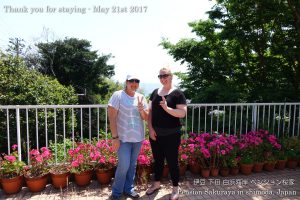 They came from Yokosuka city in Kanagawa Prefecture for the Black Ship Festival in Shimoda.
On the 1st day they went to Shimoda harbor to see the fireworks display, and went to Shimoda again to see the official parade on the 2nd day.
I didn't know before they came, but actually one of them have come and stayed at Pension Sakuraya with her husband 7 years ago.
We had great time with you!
Thank you very much for staying with us.