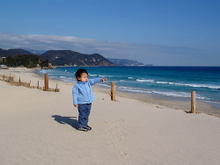 I had to go to Shimoda for shopping and anything else, so my son and I went to the beach today.
When we got to the beach and I was taking pictures my son was watching the cars running on the road.
"Look, dad ! There are big truck and bus overthere !"
My son loves vehicles and is reading his book every day. ….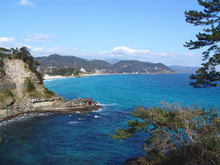 It was very warm here in Shirahama today.
We could see the cape of Inatori and Amagi moutains over the sea, because the air was very clear.
In the winter the color of water is more beautiful than other seasons.
But we will have some cold days after January, and may be able to see the mountains with snow in Izu.