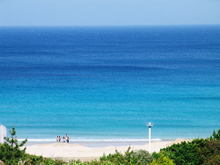 When I came back to Sakuraya from Shimoda after shopping I took this picture on the way to the hill where Sakuraya located from Route 135.
Today there was no clouds in the sky, so it was very hot and the sun was shining like a summer.
That's why we could see a real blue on the ocean.
It is only 3 or 4 hours from Tokyo to get this ocean !!