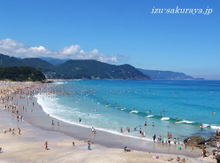 Today it was very hot but gorgious day.
So I went to the beach by walking to take pictures.
I took this one at the bus stop called "Shirahama Kaigan" on Route 135.
Have you ever seen the sea like this?
Yes, it is absolutely paradise!!…..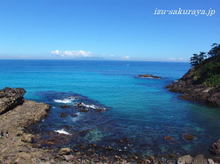 It is only 200 meters from Shirahama Kaigan bus stop to get this scenary.
We can see "Izu Oshima Island" over that blue ocean.
It takes only 4 hours by car to get this if there is no traffic jam.
Let's try this summer!!!