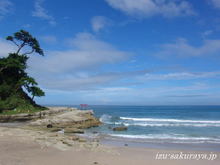 When I finished my job for this morning I went to the beach with my son "Yuuki" to swim.
It was cloudy in the morning but it was changed, sunny in the afternoon.
I went to Shirahama shrine and leave my car at the parking lot, and got into the beach.
This place is behind Shirahama shrine and we can see "Torii" Red gate (?) on big rock.
Actually we can go to the another beach "Shirahama Chuou Beach" over that rock by walking….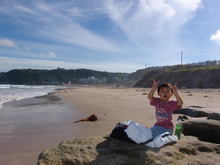 Look at this picture.
Do you see a white big building "Hotel Izukyu" over there?
It is about 700 meters from that hotel to this place.
My son had been waiting for me while I had been in the water.
Today's water was a little cold but there was no problem to swim.
I was very comfortable in the water under the sunshine.